The Merlin Trail
The trail is as chronologically logical as possible but can be visited in reverse order, or any order – or simply one location at a time when you fancy it. Overall this is a seven day itinerary but it is organised in 4 themes so that it can be broken down into one or two day trips. These incorporate all the major Dark Age sites of the 5th, 6th and early 7th centuries in the area. Don't feel you have to visit every site. The gazetteer and this website give you a good idea of what there is to see.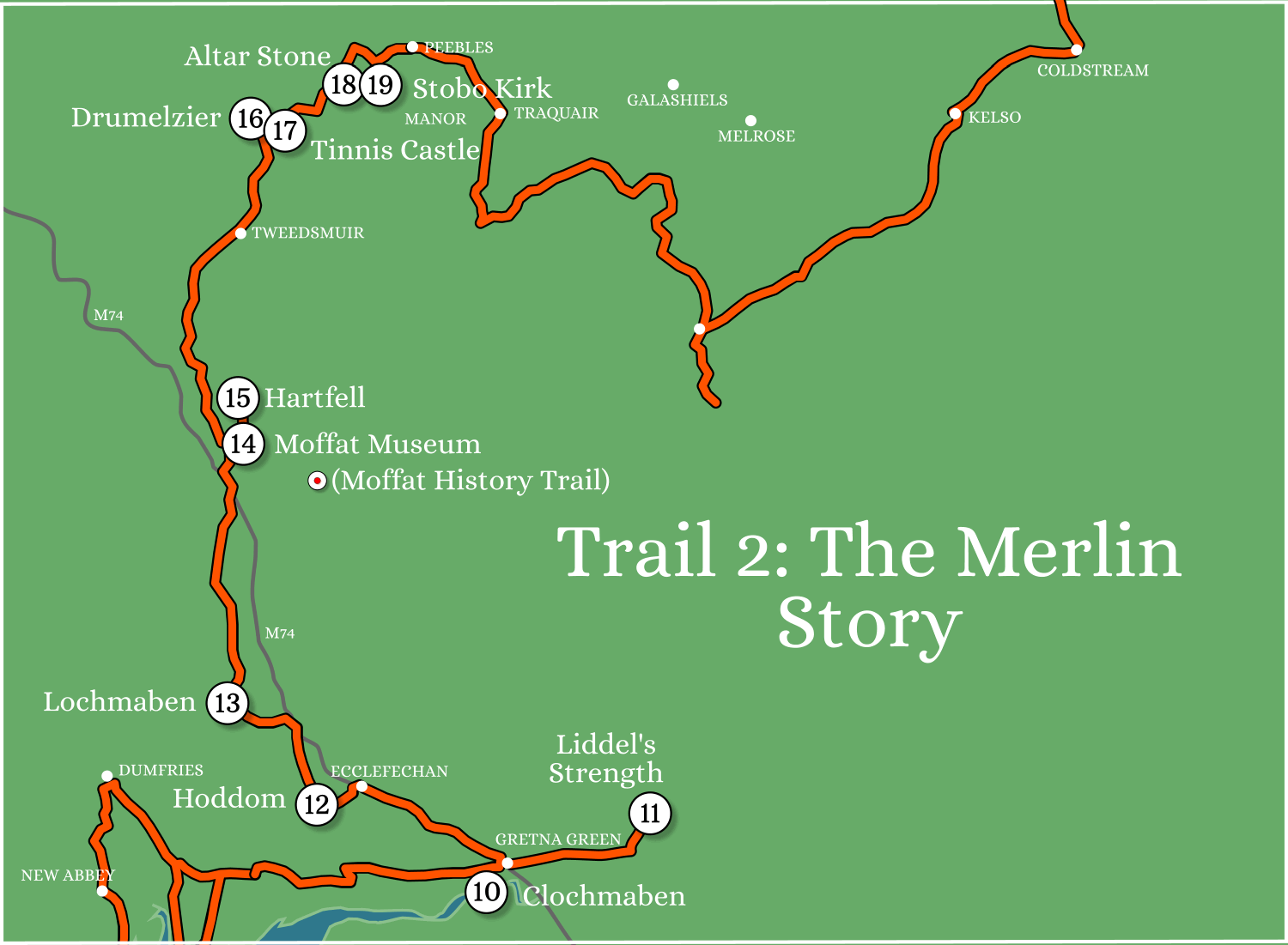 The third section (sites 20-22) takes us into the interior of Southern Scotland first to the site of a great victory in Selgovia (the Hunters) at an ancient site of ritual and burial, then on to the mysterious Catrail, an earthwork running about 50 miles delineating a no go tribal boundary and finally to the citadel of the southern chiefdom of the Gododdin defending its frontier against the Angles.
DAY 5
Trail 4. The Mungo Story (webpage under construction)
The fourth section (sites 23-27) tells the story of the Christian missionary St Mungo (aka Kentigern), It starts with a rape and the birth of an unwanted boy who is brought up in a monastery. He becomes a missionary and is eventually commissioned to convert Merlin and his people to Christianity in a final confrontation of the old and the new religions.
Buy the Book by Robin Crichton
The History behind the Legend
This is the true story behind the legend of Merlin. Born of a royal family to a life of privilege and luxury, his place in society was ordained until he lost everything in a bloodbath of pillage and genocide. Forced to live on the run he survived as an outlaw hiding out in a cave, living off what the forest could provide.
It is the story of the clash between Christianity and traditional belief – a duel between St Mungo the priest and Merlin the pagan, played out against a webs of late 6th century political intrigue and the strife of a land tearing itself apart.
Until now, our Early Dark Age heritage has been largely ignored by historians because of the lack of cross-checkable written data. This book combines history, archaeology, etymology, topography, botany and folk memory in a giant jigsaw. With nearly 150 colour illustrations and maps, the book is accompanied by a gazetteer of 28 Dark Age sites. It presents the evidence, suggests various interpretations and invites the reader to be the historical detective.
For further information: contact Robin Crichton – Email robin@merlintrail.com